At IDS, the world's leading trade show for dental technology, the high-tech company TRUMPF unveiled the TruPrint 1000, the most productive 3D metal printer for dental prosthetics on the market. the TruPrint 1000 is the only small format system available that can use multiple lasers to two laser beams to manufacture dental products 10 times faster than conventional dental milling machines.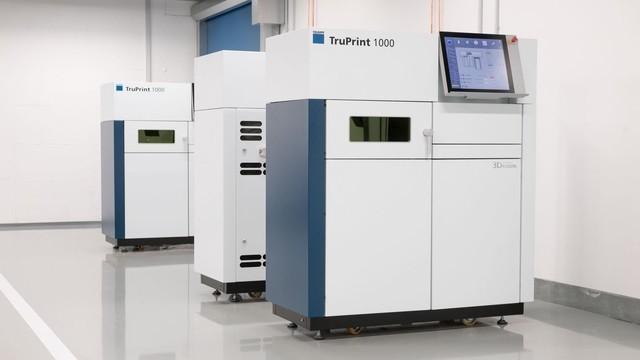 Dental 3D printers
In addition, the Trumpf compact 3D printer has another innovative feature – digital connectivity. Through a wireless connection to the milling machine, the TruPrint 1000 is able to print implantable dentures. The implantable denture not only replaces the visible tooth, but also provides the roots to anchor it. The latest product from Trumpf is helping to industrialise dental 3D printing.
Printing a tooth in just three minutes
The traditional method requires dental technicians to make moulds and cast parts by hand, and people spend a lot of time and effort making bridges, crowns and other dental prostheses by hand. The digital option is to create a 3D model on a computer that serves as a blueprint for the milling machine. Once the 3D model is complete, the system fabricates the part on the platform and the milling machine then performs the final machining.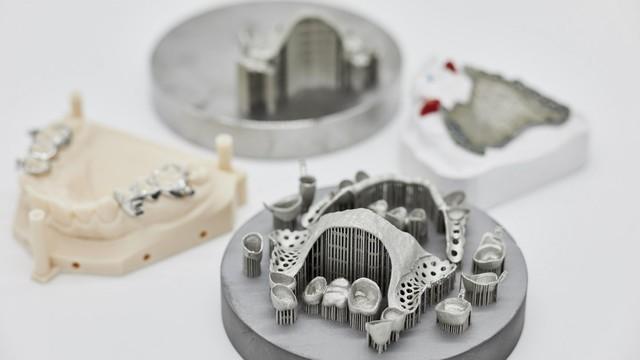 3D printing of teeth
"3D printing is much faster than either of these methods," says Reinhard Sroka, head of the dental products division at Trumpf. The TruPrint 1000's multi-laser processing capabilities allow the system to create at least 80 teeth in less than three hours. sroka says: "Printing a tooth is about three minutes, which makes 3D printing ten times faster than traditional methods." He also points out that the quality of the 3D printing is higher because the system does a better job of mapping the tooth structure.
An ultra-precise 3D printing workstation connected to a milling machine
The experts at Trumpf have upgraded the system's IT interface to equip the TruPrint 1000 with a digital link to a milling machine. sroka says: "More and more dentures are being produced on a large scale, especially in Asia, which explains why it is vital to support digital workflows. The connection to the milling machine is a key milestone step towards automated mass production."
This innovative feature enables the system to print implantable dentures. Implantable dentures are essential for patients with no remaining teeth. As the implant and prosthesis are bolted in place, the 3D printer must work with extreme precision to ensure a deviation-free fit. If there is even the slightest deviation, the tooth could come loose. the TruPrint's upgraded IT interface allows it to print such precise specifications, while the milling machine recognises the teeth printed on the hitting platform and adjusts and aligns its zero point accordingly.
According to Sroka, "Implant dentures are the fastest growing segment of the global dental industry, and the TruPrint 1000 is designed to address this important market and will make dentures an affordable 'luxury' for an increasing number of patients."