Currently, 3D printing is one of the relatively new applications in the manufacturing industry, but the technology's cost and environmental advantages are generating huge interest from more companies. Recently the University of Maine (UMaine) was awarded $280 million in funding approved by the US Department of Energy (DOE) to develop a more environmentally friendly method of producing 3D printed turbine blades.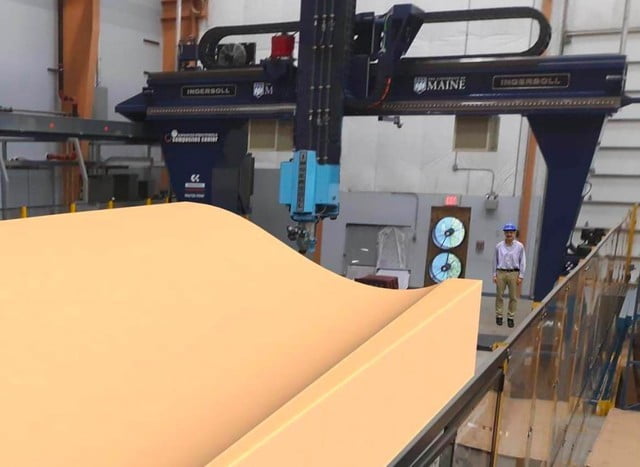 It is well known that the tooling and tooling required to design and manufacture turbine blades can cost up to $10 million, and the time-consuming process typically takes 16 to 20 months to complete. As a result, by the time novel designs are brought to market, they may be outdated, inhibiting innovation in a growing industry.
That's why UMaine's Centre for Advanced Structures and Composites is developing a lower-cost, faster way to 3D print moulds. In their $2.8 million project, the UMaine team intends to use what they call "the world's largest polymer printer" along with recycled raw materials and wooden supports to create large plastic moulds.
The researchers estimate that their new process could save 25-50% in costs, while reducing the lead time for turbine blades by up to six months. As part of another $4 million award, UMaine will also collaborate with ORNL to conduct experiments on the continuous robotic deposition of reinforcing fibres into additive blades.
Given the critical importance of controlling the mould surface temperature during production, ORNL predicts that its heating element will help to further reduce time and costs. Overall, the results of the project could prove significant as leading turbine suppliers TPI Composites and Siemens Gamesa (SGRE) closely monitor its progress.
If the researchers' CNF technology can be successfully demonstrated, SGRE and TPI could be persuaded to use it in end-use applications. Similarly, Ingersoll Machine Tools and materials blending manufacturer Techmer PM are collaborating on the programme as the research team seek to make their approach more scalable.