Currently, with the gradual spread of 3D scanning and 3D printing technology in the medical field, several brace studios and orthotic centres at home and abroad have introduced and benefited from the new 3D digital brace customisation process.
OT4, a company based in Munich, Germany, was founded in April 2018 and has already provided brace customisation services to thousands of patients within two years with the help of 3D scanning and 3D printing technology.
Markus Burkhardt is an orthopaedic technician by profession and the founder of OT4. His studio, which currently has a staff of eight, specialises in providing 3D printed personalised customised braces.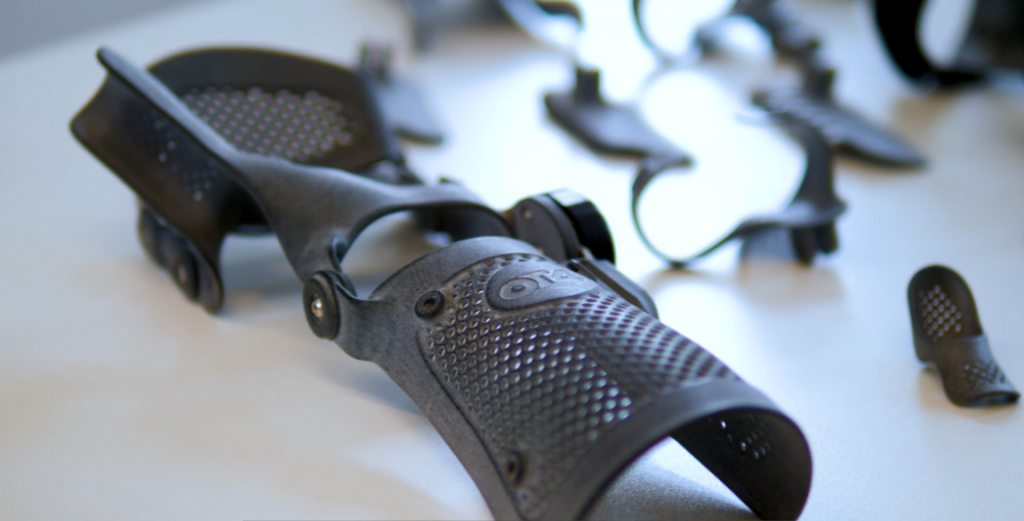 The process of OT4's services is basically as follows.
First, the patient comes to OT4 with a hospital treatment plan, which is judged by a professional orthopaedic technician and an orthopaedic plan is drawn up.
Then, a technical engineer uses the EinScanPro 2X Plus scanner to carry out a 3D scan of the relevant area to obtain 3D data of the current situation.
Then, with the aid of 3Dsystems' FreeForm haptic design system, the OT4 engineers develop the CAD design of the individual brace.
Finally, the support is 3D printed and delivered to the patient.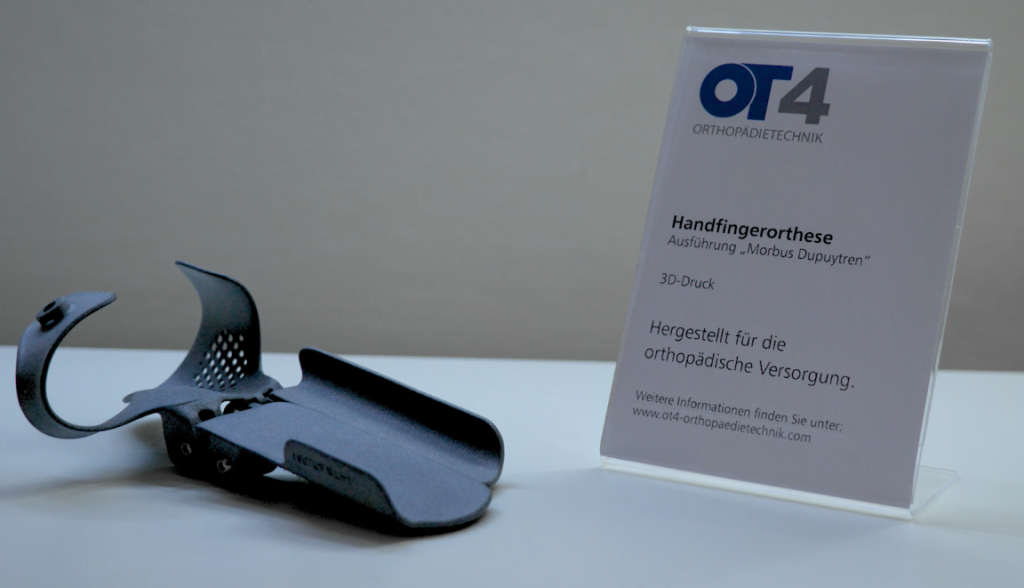 This digital customisation process is very efficient and user-friendly. The patient no longer has to be put in a thick plaster bandage, but only has to undergo a non-contact 3D scan to "take the mould", avoiding pain and making the area cleaner and more hygienic. For doctors and orthopaedic technicians, the digital customisation process minimises the complexity of the process, increases the efficiency of the customisation process, and provides patients with better-fitting braces, resulting in better customer satisfaction.
"The EinScan scanner is able to output very high quality 3D data, which helps us to provide better customised braces for our patients." –Markus Burkhardt, founder of OT4 Brace Customisation in Munich, Germany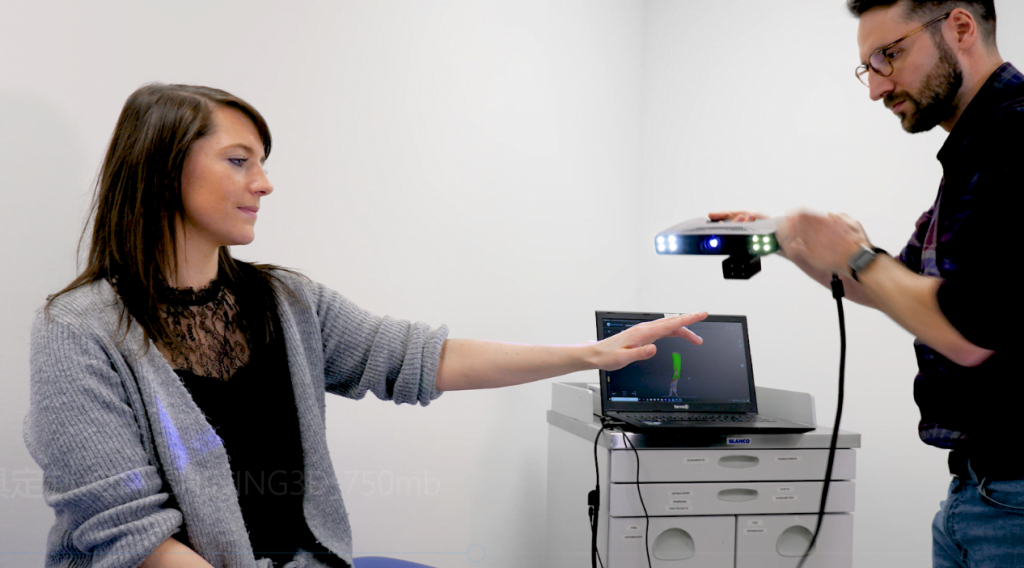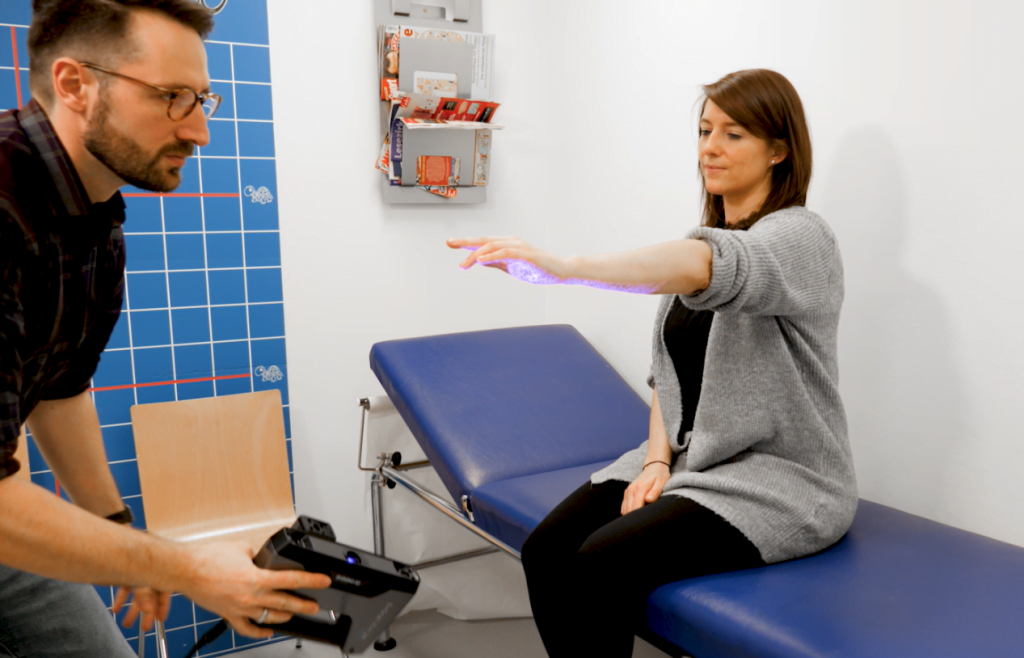 Today, OT4, the local distributor of 3D scanners for Centrin 3D in Munich, Germany, conducts occasional workshops on the customisation of medical aids and provides training for medical practitioners in 3D scanning and data design.
In China, there are also specialist workshops like OT4 that offer personalised support services for patients.
Shanghai's Mei Zhao Scoliosis Studio, a specialist provider of orthopaedic braces for scoliosis, has partnered with Centrin 3D to launch the "Hua Zhi" brand of 3D printed orthopaedic braces. The founder of the studio, Mei Zhao, is a national master orthopaedic technician (2 in total nationwide).
Scoliosis is a major risk for young people, with a prevalence rate of 5% in the national census. There are over 300 million children under the age of 15 in China, which equates to over 15 million children at risk of scoliosis.
Traditional orthotic fabrication involves making a plaster cast of the patient's body, then turning the orthotic according to the plaster model and later reshaping and polishing it, with problems such as large deformations, inaccurate fixation points and a poor working environment for fabrication.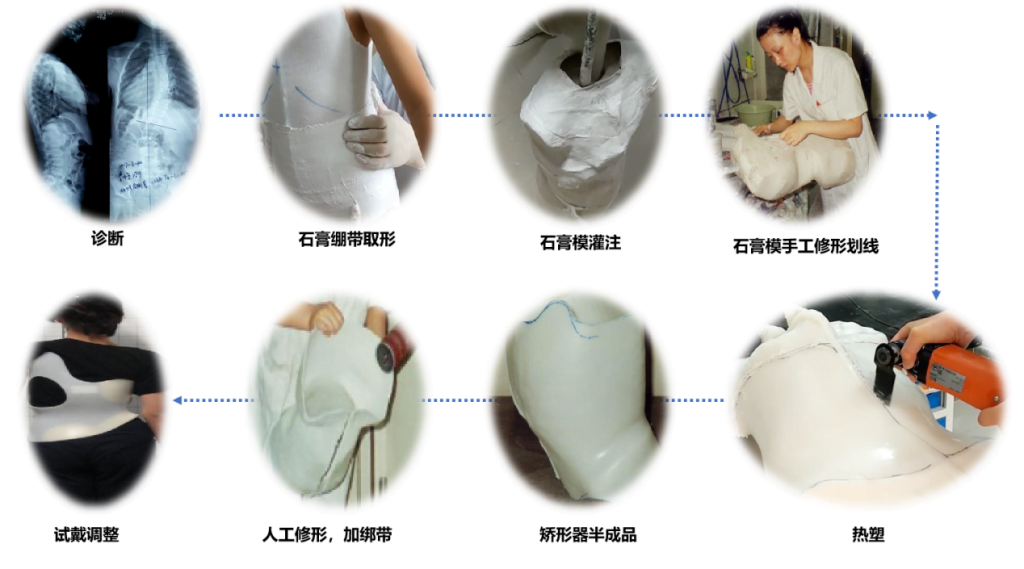 The Meizhao Scoliosis Studio has introduced 3D scanning and 3D printing technology to provide patients with scoliosis orthopaedic braces that follow the body well, are aesthetically pleasing and breathable, and provide better comfort and orthopaedic results with a new 3D digital process for orthopaedic treatment solutions.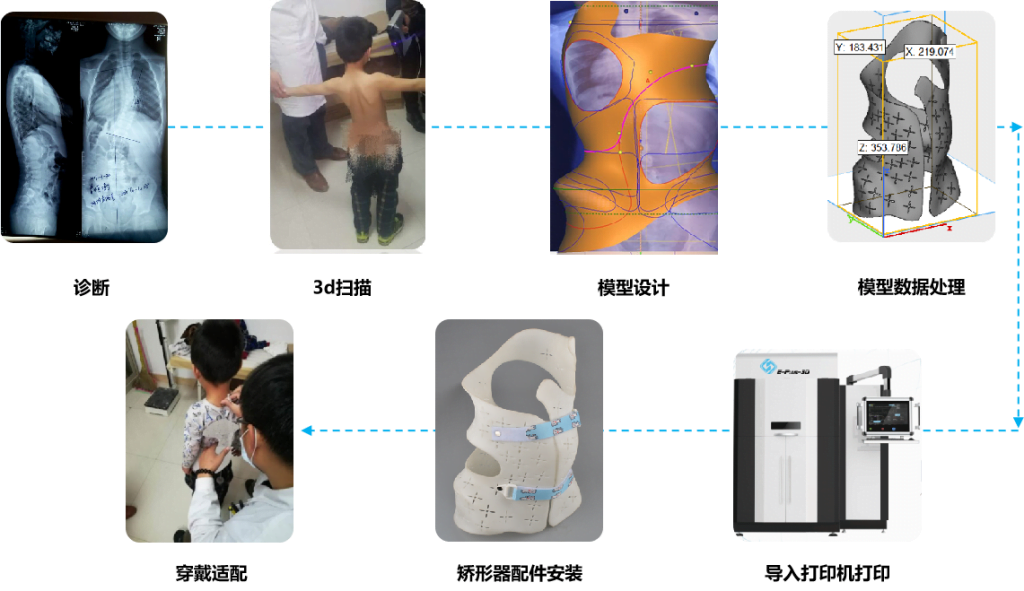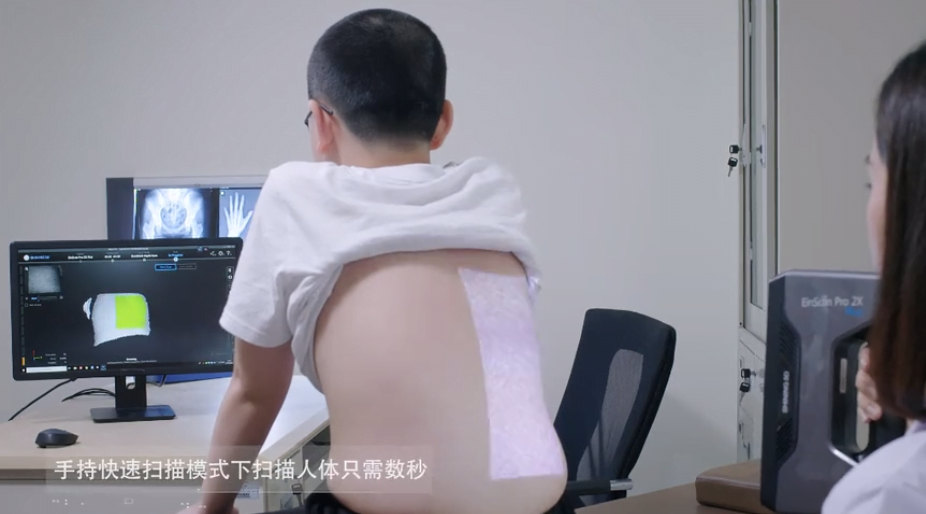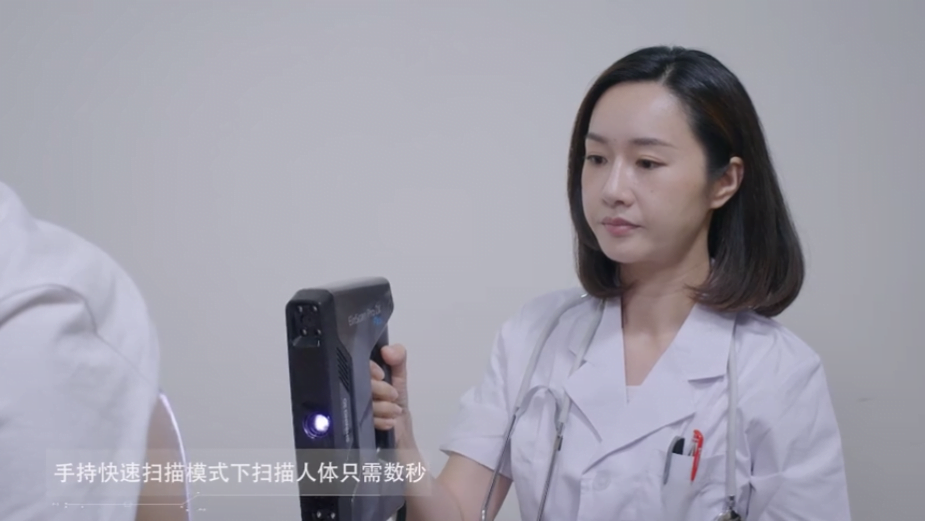 Since 2017, Centrin 3D has been collaborating with domestic spinal orthopaedic brace companies such as Mei Zhao Scoliosis Studio and Ruiha International, and has successively provided customised brace services to nearly 500 Chinese scoliosis patients.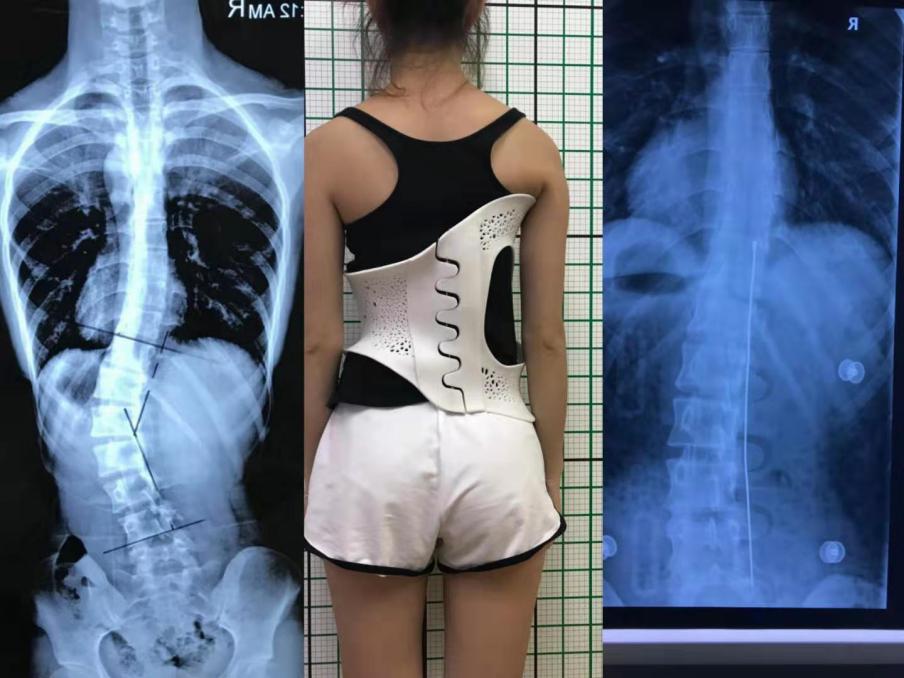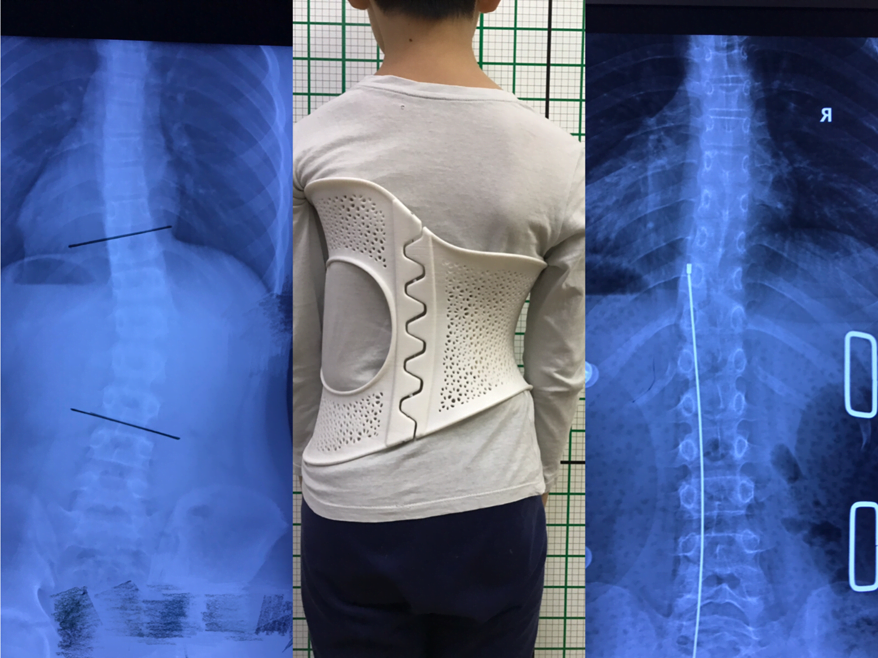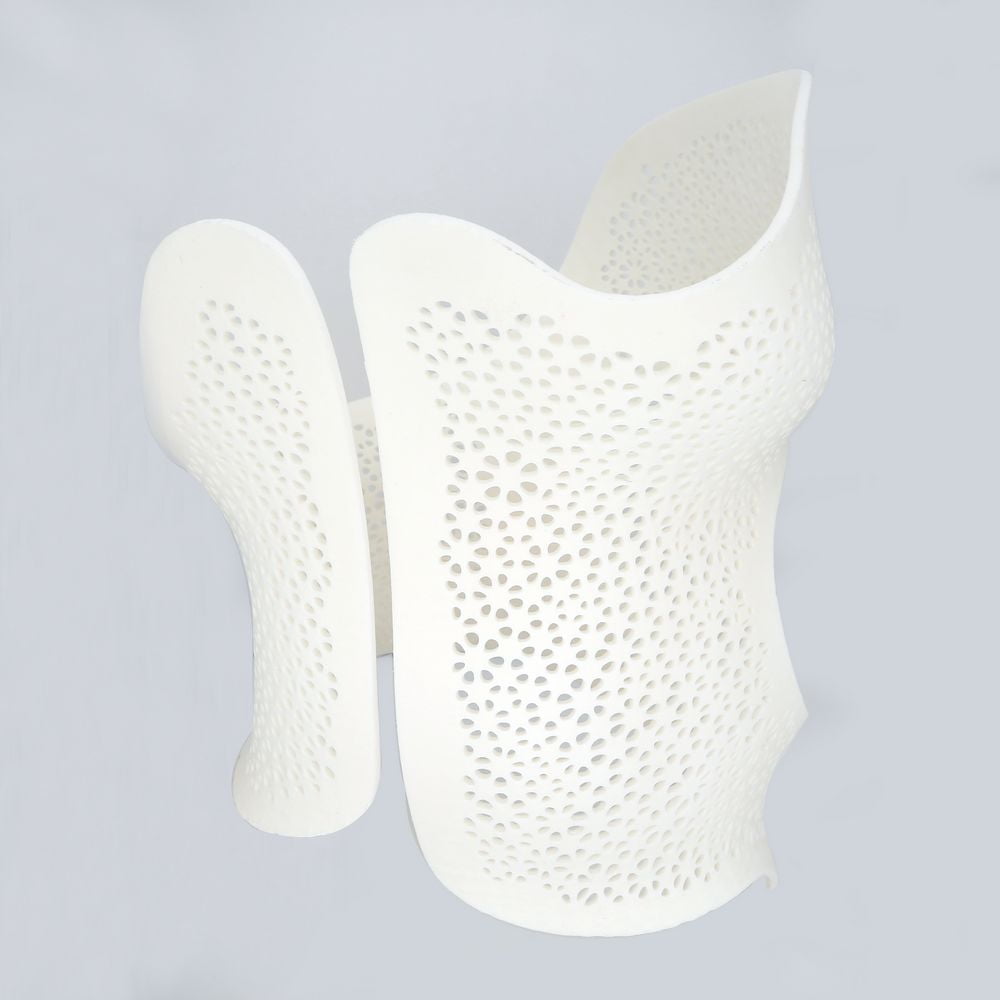 3D printed orthoses vs conventional orthoses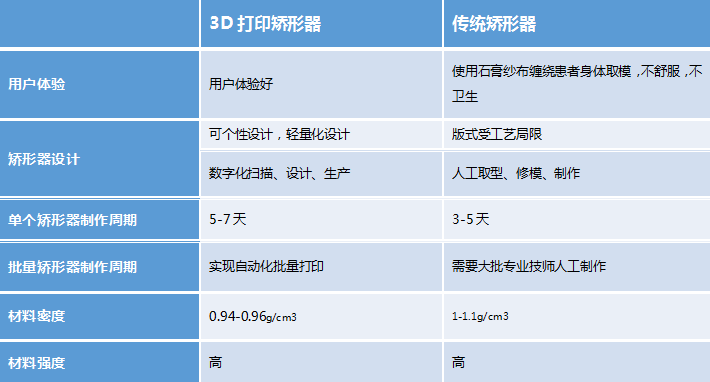 The beauty of technology is that it makes the complex simple.
The beauty of technology lies in having humanity and warmth.
3D digital technology is not an end in itself, innovation and creation that improves human production and life is our ultimate goal!
To achieve flexible production of complex structured products and to bring personalised products into hundreds of millions of homes.
–Centrin 3D Corporate Mission